Featured Item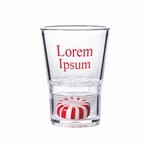 2 Oz. Flav-A-Shot™ Infusion Acrylic Sh...
Infusion acrylic shot glass two piece 2 Oz. acrylic shot glass. Place an edible condiment (such as candy, fruit, gum, licorice, chocolate, etc.) into the removable bottle compartment of the unit. Reas...
$2.70 - $3.42
Welcome!
Welcome to RAINpromos, your trusted source for promotional marketing, incentive gifts, and branding solutions that make a visually strong, powerful impact with your customers, prospects, and employees. We excel in reliable and consistent customer service, highly creative products, and competitive pricing.We make your delivery deadlines a priority and rush service is always available.
Our experienced, knowledgeable specialists combine your marketing plan, budget, and key message with creative merchandise that enhances your corporate image. Gifts and awards are available for customer retention, employee recognition, sales incentives, and more.
Please take a moment to browse through our extensive catalog or give us a call at 858.565.2963. We'd welcome the opportunity to talk about your needs and point you in the most affordable and effective direction.
We look forward to working with you.
Signature Showrooms